We'll provide you with How To'S and other educational content.
Learn new tips & tricks for surviving any emergency situation.
How to Use an Emergency Sleeping Bag Properly
How to Use an Emergency Sleeping Bag Properly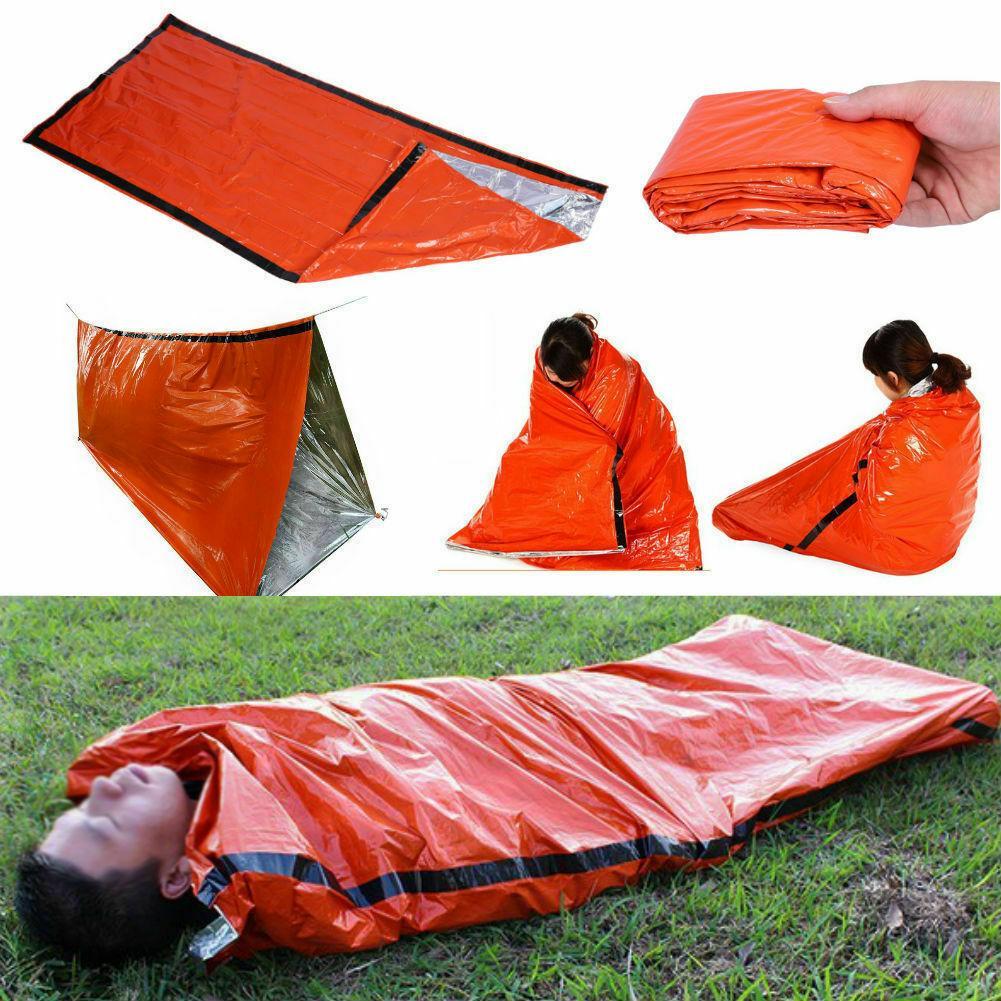 Whether you plan an overnight stay in the backcountry or you face unexpected night out all of a sudden on cold weather, you need an emergency sleeping bag as an essential part of your wilderness survival kit. Do you know that this important gear may save your life? It may prevent you from hypothermia, a condition that takes 600 lives in America each year.
Before you learn how to use this powerful gear properly, you may want to get clear about its function. The role of an emergency sleeping bag in saving your life is to protect you from hypothermia. It can help you survive a cold night out by reflecting your body heat back. This way, it assists your body in retaining its temperature. 
However, to survive extreme weather, you need to know what an emergency sleeping bag can or can't do. When facing harsh conditions, many people fail to use a bag correctly because they lack understanding about how it actually works.To avoid this scenario, let's start with hypothermia.
What is hypothermia and how does it happen?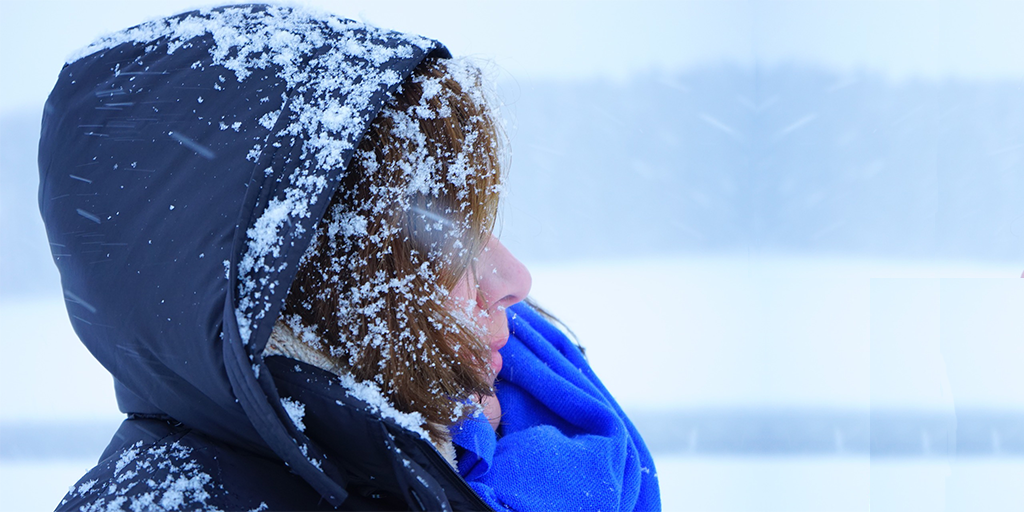 Hypothermia is the most common emergency that happens when you spend a night out in the wilderness, on your hiking tour, or in your car during a snow blizzard. It affects people in the backcountry more often than a lack of food and water. The condition appears when your body can't regulate its temperature anymore, which consequently drops below normal. 
Hypothermia may affect the human body through radiation, evaporation, conduction, and convection. In other words, you may get hypothermia by sweating, respiration, and sleeping on a cold ground. Once the cycle of hypothermia has started, you may lose your temperature rapidly. The colder the weather, the faster it can set in. 
How can an emergency sleeping bag help with hypothermia?
Proper use of an emergency sleeping bag is the number-one factor that may help you survive. If you don't know how to use it properly, then it is completely useless. Moreover, it may make things worse, because you count on this bag as a lifesaver in an emergency, and you may not have a plan B or other gear that may help you with hypothermia. 
Because of that, you may want to know three proper basic uses of an emergency sleeping bag:
1.      As an emergency sleeping bag

Function: An emergency sleeping bag can't replace your regular sleeping bag It's been created for an emergency. It can't warm you up, but it can help you maintain your regular body temperature on harsh weather—strong wind, heavy rain, or freezing temperatures. It can't insulate your body, so you'll need an insulation layer for that purpose.

How to use it properly: To prevent moisture to get trapped inside, keep your head above the bag. You don't want your breathing to create wet air. Put a woolen hat instead to avoid losing temperature through your head. 
Condensation is the greatest enemy of the emergency sleeping bag. The bag can't breathe, which causes moisture from your sweat to accumulate. This way, an emergency bag won't keep you dry and warm. It loses its main function and you can end up frozen to death.
For that reason, opt for clothes that are not made from cotton. Choose materials such as wool and synthetics. Wool is also a great insulator and it will keep you dry. Avoid tight-fitting clothes that may slow your circulation.
In case you get warm, use a vapor barrier between your body and sleeping bag to minimize condensation. It will prevent the wet from sweating to get trapped and fill out the bag.
The common mistakes: As already mentioned, an emergency sleeping bag is not intended for insulation. It won't prevent your body from conduction, or from losing its heat through a clod ground, so you want to make sure that you have something to insulate your body. You may use dry leaves for that purpose.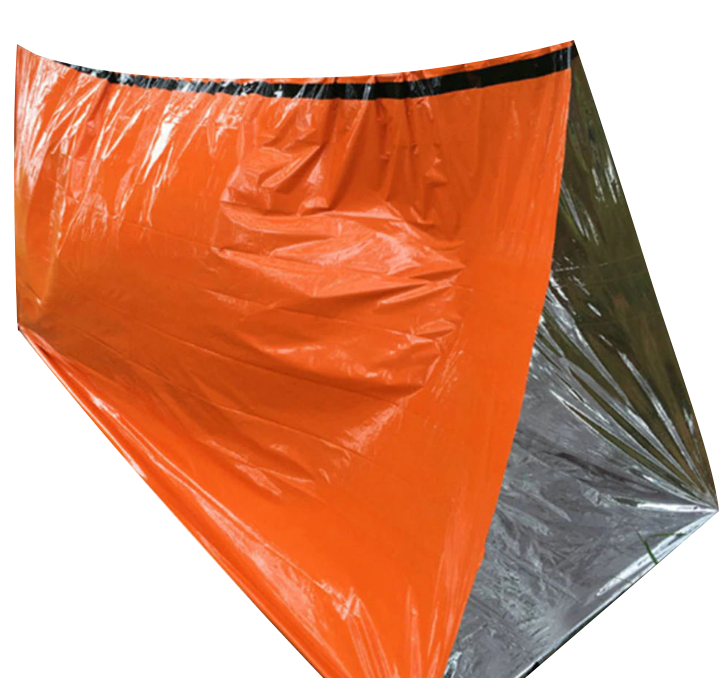 Function: If you want to use your emergency sleeping bag to protect yourself from rain, strong wind, and freezing temperatures, you may use it as a tent. Just cut it off by the seams, leaving only the middle one uncut. Setting up a tent will protect your stuff, your food, and water from freezing temperatures. It may protect you and your stuff on extreme heat, too.
If you've already set up a tent, you may fix your emergency bag with duct tape on your tent to made additional protection from heavy weather. The emergency bag is waterproof, thus adding an extra layer of protection will keep you dry. 
An emergency sleeping bag is a good heat reflector, too. By using it at the top of your tent, you may make it a perfect shade from the heat.
How to use it properly: Find the right place that is naturally protected from wind and rain. You want also to bring cordage and tent stakes that will help you set up a tent properly. 
The common mistakes:  Not knowing that an emergency sleeping bag can be used as a shelter or as additional protection for your tent, especially when a huge tear appears.
The loud noise that comes from sleeping bag material might be minimized by wearing earphones.
3.      As an emergency blanket

Function:you may also want to cut off the seams and turn your emergency sleeping bag into an emergency blanket. Be sure that you leave the central seam intact. You may squat or sit on an insulating layer and wrap the blanket around your body. For extra heat, you may use a tea light. Your emergency blanket will reflect that heat and keep you warm.
Another option to use your emergency blanket is to use it as a layer covering your sleeping bag. It will protect you from strong wind and freezing temperatures. 
How to use it properly:Wrap around your body, but stay in a squat position if you don't have an insulation pad. This will prevent your body to lose its warmth by contacting a cold ground.
The common mistakes: An emergency blanket is an additional tool for your sleeping system. It will help you retain heat while sleeping, but it won't warm you up as already being said. You most likely want to have a system in place to sleep safely and comfortably if you plan a night out on cold weather.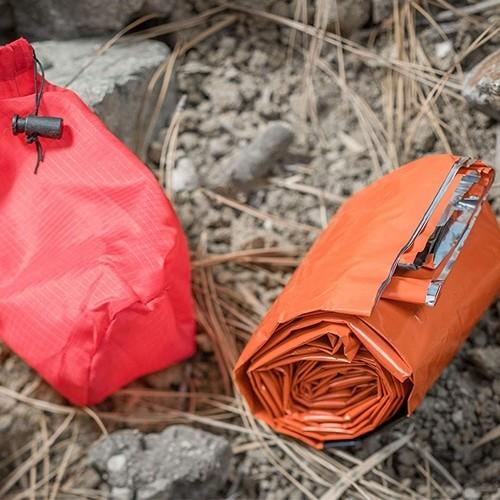 An emergency sleeping bag is a necessary item in your survival kit. It is lightweight and doesn't require a lot of space. Be aware that this survival gear can't replace your other items such as a sleeping bag or an insulating pad. However, this is a must-have item for every outdoor man because it may save your life when the weather conditions become too harsh. To maximize its benefits, don't wear cotton clothes inside a bag and keep your head outside the bag.
We are currently running a limited time promotion on ourEmergency Sleeping Bag with Free shipping and up to 78% off.

:|zpendofcontent|:
SHARE YOUR STORIES WITH #PREPAREDHERO
Follow @preparedhero For More Survival Gear
QUESTIONS OR FEEDBACK?
We Would Love To Hear From You!
EMAIL SUPPORT
PHONE SUPPORT
MAILING ADDRESS
Prepared Hero 431-2967 Dundas St. W. Toronto, ON M6P 1Z2
P.S If you are an influencer or writer in the preparedness space, we would love to work with you! Feel free to reach out and tell us more about yourself.