BUNDLE DEAL: FREE Shipping + 51% Off Today ONLY!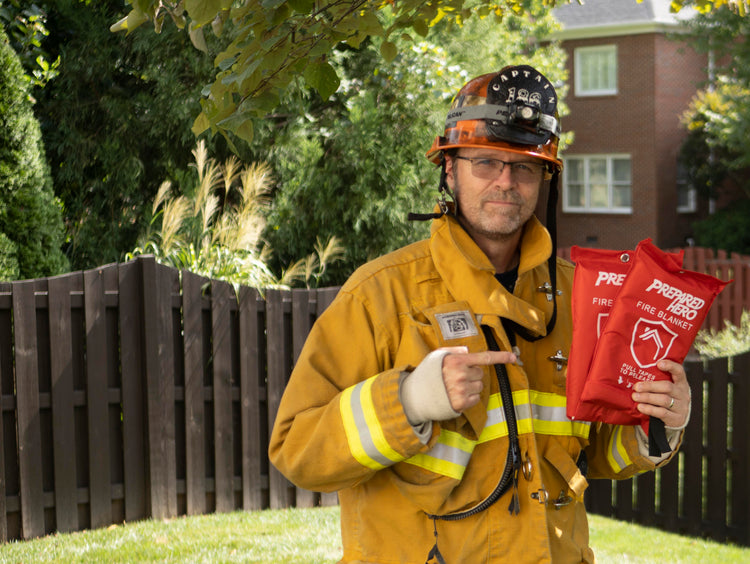 Looking For An Inexpensive, Reliable Fire Safety Solution For Your Family? Put Sudden Fires Out Safely In Seconds
Without burn risks, using uncertain old remedies or breaking the bank
Anyone can use it - from children to grandparents, it's safe for the whole family
None of the powdery or harsh chemical messes that fire extinguishers leave to clean up
Never expires, so it can be used whenever it's needed
GET 51% OFF TODAY ONLY!

Over 160,000 Real Satisfied Customers
30-Day Money-Back Guarantee
If you're not happy with your purchase, for whatever reason, we'll send your money back. No hassles, no questions asked.
FREE SHIPPING
 We offer free shipping and handling on all orders over $60.
Fire Captain Approved
Protect your home from fire accidents, giving your family peace of mind.
The End To Worry Over Your Family's Safety From Sudden Fire Emergencies
If you're reading this, chances are you're concerned about your family's ability to stay safe during a fire emergency. This is a great first step. Studies show that 19% of American families have no fire safety plan in place at all.
And it shows. There are more than 350,000 house fires in the country per year, nearly 3,000 of them deadly.
Worst of all is the knowledge that many of these fires are preventable, when steps are taken to catch these fires when they are small and manageable. 
Using its special fireglass-based, fire-resistant lining, the Emergency Fire Blanket from Prepared Hero extinguishes a fire easily and swiftly, without danger to persons or property.
Years Of Discovery And Research
You've probably heard of, or even tried, other methods of putting out home fires that others swear by. The simple truth is that many of these do not work reliably in every situation. This false sense of security is what results in many of the horrific fire tragedies we see so often in the news.
Fire extinguishers have been known to be confusing to many consumers. Old remedies like pan lids and baking soda can be effective, but have serious limitations in some cases.
Prepared Hero consulted with a panel of dedicated, concerned emergency response professionals, determined to develop a product that is
Easy to use
Effective every time
Safe for anyone in the family
They discovered that these elements would be the keys to success for home fire safety.
No More Worries About Fire Readiness
The Emergency Fire Blanket's protective lining is fire resistant up to 900 degrees Fahrenheit. 
By covering a fire, the Blanket:
Deprives fire of needed oxygen
Keeps user safe from flames
Puts fire out quickly
You're able to confidently and securely stop small fires in their tracks.
And it's reusable, so it can save your home and family again and again.
Effective Against Many Types Of Sudden Fires
One of the drawbacks to fire extinguishers is that one has to be aware of which extinguishers work on which types of fires.
In fact, studies show that 83% of Americans don't know how to use a fire extinguisher properly.
With the Emergency Fire Blanket, this concern goes out the window.
It's effective against:
Grease fires
Electrical fires
Wood fires
Paper fires
Fire Protection That Anyone Can Use
Almost any member of the family can use the Emergency Fire Blanket from Prepared Hero.
Older family members, teens and—with proper, responsible instruction—even kids can use this product to extinguish small fires before they turn into catastrophic emergencies.
There's no need to waste precious seconds waiting for the family member who "knows what to do" to come along. Anyone can be a hero with the Emergency Fire Blanket.
Ready To Work Any And Every Time
The Emergency Fire Blanket doesn't expire, so it can keep your family safe and secure from fire for years to come.
Stage it nearby on a hook, so it can be pulled from its packaging by its handy tabs and used instantly to cover a fire.
It can also be stored in cupboards, in a garage or in a car. Take it on camping trips to snuff out out-of-control campfires or barbecues.
Save Up To 51%! Act Now!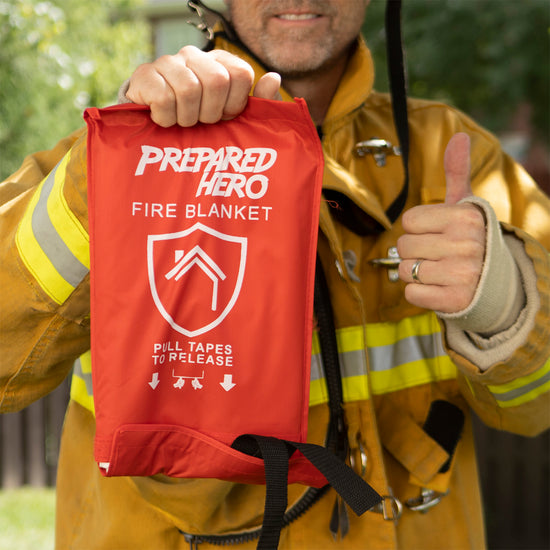 Approved By Firefighters Across The Country
The Emergency Fire Blanket has been rigorously tested for dependability, and is approved for use by emergency response officials across the country. 
The panel of experts consulted by Prepared Hero is excited to support a reliable fire protection solution that anyone can use. This product is CE HS&E certified and meets EN-1869:1997 standards.
More affordable than many fire extinguishers, and less risky than home remedies, The Emergency Fire Blanket is one of the best fire safety products on the market.
Eliminate fire quickly without the complexity, bulk or mess.
Emergency Fire Blanket Vs Extinguisher

Knockoffs
Fire Extinguisher
Quick Fire Elimination
Easy Cleanup
Suitable for all Ages
Instant Deployment
Lightweight
Quality Inspected
Customer Support
No Loose Fiberglass
Trusted by 210,000+ families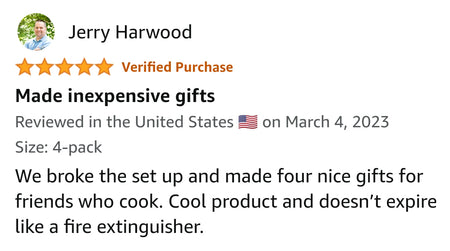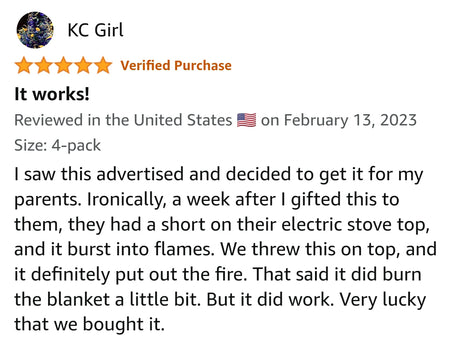 Authoritative Application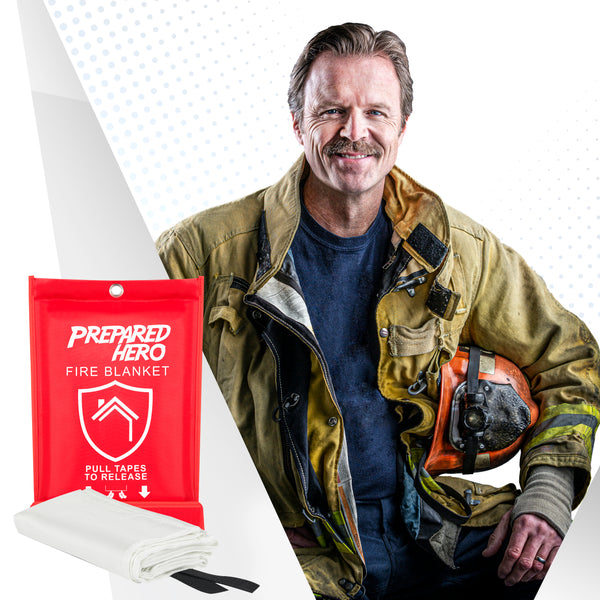 All fires can be extinguished by cooling, smothering, starving or by interrupting the combustion process to extinguish the fire.
Smothering: limiting oxygen by preventing air from reaching the seat of the fire to allow the combustion process to reduce the oxygen content in the confined atmosphere until it extinguishes itself
From: National Fire Chiefs Council
https://www.ukfrs.com/modal/general-cm/13785/313689/document/nojs
How To Use
Step: 1
Keep your blanket conveniently staged or hung in a location where a fire might occur
Step: 2
 Remove the blanket from its case when fire occurs, using the convenient pull tabs
Step: 3
Cover the fire until the flames are completely smothered and extinguished
Step: 4
Enjoy the peace of mind that comes from protecting your home
The families we protect
Even children and elderly can use it.
Kristel A.
I saw this advertised and decided to get it for my parents. Ironically, a week after I gifted this to them, they had a short on their electric stove top, and it burst into flames. We threw this on top, and it definitely put out the fire. That said it did burn the blanket a little bit. But it did work. Very lucky that we bought it.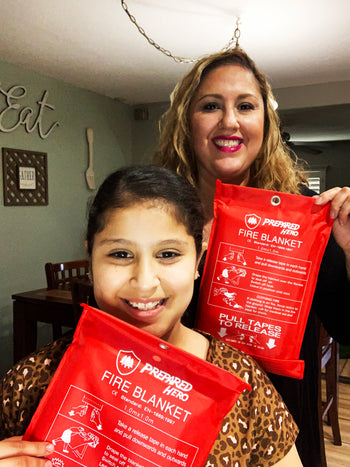 Joanne M.
This is a well made product I hope I never have to use. I had one small grease fire in the kitchen and it was sufficient for me to order this. Easy to find in an emergency, easy to deploy and well made. If kept in a cabinet net to the stove top it readily stands out so you will remember where it is in an emergency.
Jane M.
Ordered the four pack and gave one to each of our families. Everyone was thankful to have one in case if a fire
Get Protected Now & Keep Your Family Safe!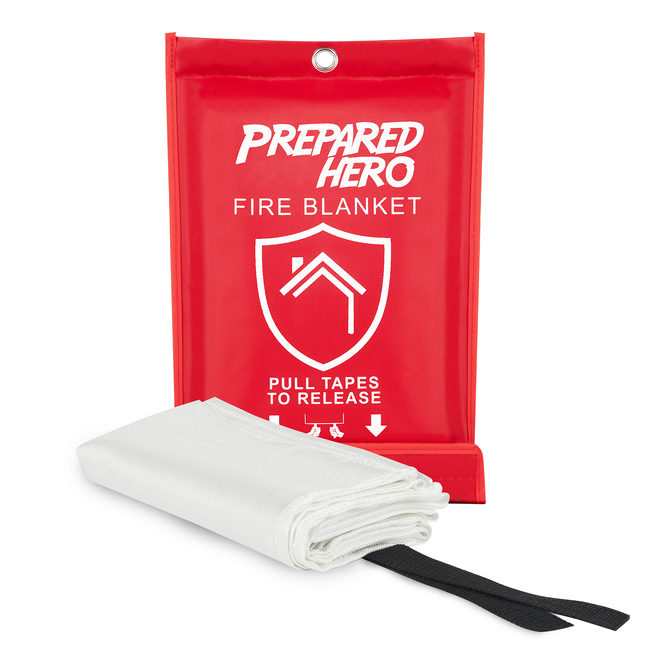 Special Offer On Now!
Get Your Emergency Fire Blanket NOW Risk-Free at an All Time Low Price!
Act Now and You'll Get:
50% OFF select Bundle Discounts
Get Peace of mind
FREE Shipping on 4 Pack and up
Check for Availability
Get Your Emergency Fire Blanket NOW Risk-Free at an All Time Low Price!
30-Day Risk-Free Guarantee
Try it RISK-FREE for 30 days. If you're not satisfied with your purchase and fully convinced that this product can protect your home and family - we don't want your money! Our 30-Day Money-Back Guarantee policy will make it right for you. Just contact our customer support team via email at support@preparedhero.com or by phone at 1-833-669-4376 and ask for a full refund. 
Buying items online can be a daunting task, so we want you to be aware of the absolute ZERO risks in buying something from us and trying it out. If you don't like it, no hard feelings, we'll make it right. We want you to feel safe and confident, not only when using our products, but also when shopping with us.
We have 24/7/365 Online Email Support. Please contact us if you need any assistance.
Have a Question? We Can Help!
The Emergency Fire Blanket can successfully put out any source of fire that is smaller than the blanket itself. This includes electric fires, grease fires and more.
The Emergency Fire Blanket by Prepared Hero is 3.2 ft by 3.2 ft. We also now carry a larger size: 3.9 ft by 5.9 ft. This is large enough to wrap around your body for a fire escape scenario. The larger size is here:https://preparedhero.com/products/extra-large-emergency-fire-blanket-by-prepared-hero
The best place to store your Fire Blanket by Prepared Hero is in high danger areas. This could be in your kitchen or heavily trafficked areas of the home, garage, vehicle, RV or camper. We recommend hanging them in cabinets so that it's ready for use in an instant. We designed a custom stainless steel hook that fits the Fire Blanket by Prepared Hero. It has extra strength adhesive to ensure the hook doesn't fall off. The Stainless Steel Hooks is here:https://preparedhero.com/products/fire-blanket-hook-stainless-steel
Yes! So long as the fire blanket isn't damaged, it can be reused. There can't be any holes or damaged materials. If it's just soot then it can be wiped off and reused.
There is no expiration date. The Emergency Fire Blanket never requires costly maintenance or recharging. As long as the blanket is in good condition, it will not expire.
The Emergency Fire Blanket can withstand temperatures up to 900 degrees Fahrenheit.